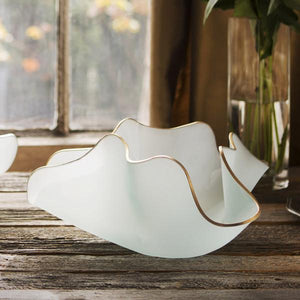 Anemone Frosted Sculpture
Annie created Anemone Frosted Sculpture to fuel her passion and talent for extraordinary sculptural glass. "I wanted to create a sculpture to showcase the fluid movement of glass," says Annie.
Celebrating the unique handmade slumping process for which Annieglass is known and admired, combined with the natural beauty and characteristics of glass, each Anemone features free form folds that vary piece to piece, ensuring no two sculptures will ever be the same. 
Dishwasher safe
Chip-resistant 
Handmade in the USA
Available for personalized engraving